Now that you are signed up for an account, let's get you started.
Logging in:
When you signed up for a subscription you should have been prompted to create a password, this password you will use when logging in for your next session.
You can sign in to your account by clicking "Login" on our homepage or by clicking here: https://app.entitykeeper.com/users/sign_in
To sign in, use the email associated with your account and the password you created when you signed up.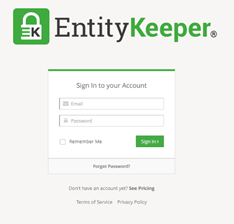 Adding your entities:
When it comes to importing your entities you have two options:
Use our import tool which you can find instructions on here: Importing PDF
Manually add your entities. Steps to do so are here:

Click the "Entities" tab in the navigation
Click "+" button in the top left
Enter as much company information as you know
Click "Submit"
From here, you will be able to enter in more information: Registered Agents, Officers, Board members, Committees, etc.

Once your entity has been added, you will have the option to add in all details affiliated with that entity.
Want to provide access to colleagues to have them help? Give them access by setting up other users in your account. Follow these steps to add a new user.
Now that you have your entities uploaded and users added, you are ready to roll. To see more steps on customizing, org charts, and more, please refer below or visit our My Account section: